Library & reading room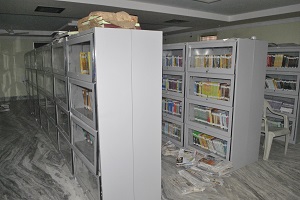 Library is the store house of knowledge. It is the Window to look the whole world. Department of Education, Magadh University has a thick air conditioned Library having 8000 Books, 25 National and International Educational Journals, 4 e-journals, 6 magazines & 6 Hindi and English news papers regularly subscribed it is digitalized partially.
It is under the process of membership in INFLIBNET and open access system. Every year it is growing to reach its optimum level. Visitors from inter Departments and outside also come to visit it. Well experienced and qualified librarian and assistant serve they are on all working days.
This library is connected with ultra-model peaceful reading room having 15 capacity to site. Our students teachers, staff members and teachers are very often go there for reading purpose.
Classroom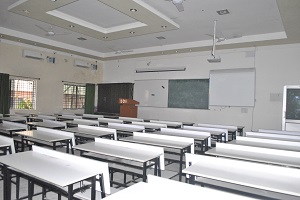 The classrooms of the departments are well specious, ventilated & air conditioned. There is system for Power-Point presentation, chalk board & display board in classroom. The necessary furniture like bench, desk, made up of iron and podium, fans & light etc. are available in each classroom.
Conference Hall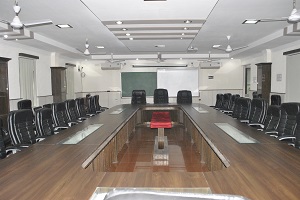 On the first floor of the Department lies a conference hall (Dr. Radhakrishnan Conference Hall), which is centrally air-conditioned with a seating capacity of 125 persons and is equipped with the latest gadgets at par with International standards.
ET/ICT Lab
Information and Communication Technology (ICT) is an umbrella term that includes all technologies for the manipulation and communication of information. It deals mainly with the uses of tools and techniques to enhance the effectiveness of the teaching-learning process.
Educational technologies (ET) deals mainly with broad theoretical and classroom oriented issues, including processes, while ICT in education largely deals with practical aspect of Educational Technology.
The Department comprises an air-conditioned quite spacious ICT Lab. to facilitate teaching learning process. There are T.V., Projector, OHP, LCD Projector, Camera, Radio, CD-Rom Computer with internet facilities and other modern electronic gadgets available in our ICT Room. There is language software in language laboratory which is imparted by skilled instructors.
Science & Math Resource Centre
Science and mathematics are essential components of general education of an individual. Science and mathematics are not mere disciplines of study but also a way of life.
The process of scientific thinking based on scientific reasoning, mathematical logic, scientific method of problem solving and mathematical accuracy and above all the values they inculcate, cut across various disciplines and are applicable in every walk of life.
Science and mathematics education at school level has to focus to only on development of understanding and skills related to these subjects but also on the development of scientific temperament among the learners.
On the basis of aims and objectives of science and mathematics our department has well equipped Science Laboratory having Physical, Chemical, Biological and Mathematical apparatus.
Psychology Resource Centre
The teachers are expected not only to understand children and how learning occurs but should also be aware of their inclinations, expectations, perceptions, dispositions, potentialities, acumen etc.
Teachers with such technical know-how and confidence will not only be able to apply the theoretical knowledge to real life situations but will also be able to use the knowledge of their field and real life experience to construct.
In the view of above opinion our Department Psychology Resource Centre has well equipped psychological test apparatus such as mirror drawing test, intelligence test, memory test and some paper on personality, teacher effectiveness test to provide training for student-teachers that how to psychologically identify the individuals.
Art and Craft Resource center.
Our Department has well equipped Arts and Craft Resource Centre for providing opportunities and training to student teachers for acquiring and enhancing necessary skill in different areas of arts and craft as a prospective teacher and also as an individual.
Health & Physical Education Resource center.
Health education is both "contents and a process" comprising of desired change in knowledge, attitudes and practices. Sports and physical training constitutes and essential part of education. Physical development of the body is required for healthy growth of mental abilities.
Regular physical exercises and training and active participation in various disciplines of sports and games are encouraged under the guidance of trained teacher and coach Team events teach us to contribute individually towards a common goal and to work for common cause. But individual events exhorts one to excel all others in the race. Athletics and indoor events lime chese and carom are a few of such individual events the trainees are encouraged to practice.
Our department has well equipped Health and Physical Education Resource Centre for training of students teachers to enhance the knowledge about important role of health and physical education in society.
On –Campus Facilities
Banking
Canteen
Parking
Post office
Hostel facilities
Security Services

Services
Orientation

Student Support
Financial Aid
Academic Support
Guidance-Counselling & Placement Service
UGC Coaching & Bihar Govt. Coaching service
Campus Selection
Community Services
Environmental awareness Program
Sports & Games.